Hi Rod
My point is that my naming container more information that just gauge.
VR DD Class T1 Green - BG (VR DD class T1 Green...)
VR BG DD Class T1 Green ( VR BG DD Class T1...)
Which of those is more important, the one that tells you gauge (yet the order of items tells you this as well) or the one that tells you what the content actually is. The 'T1' will always fall of the end if you put BG at the start.
I've thrown together an example based on the DD class...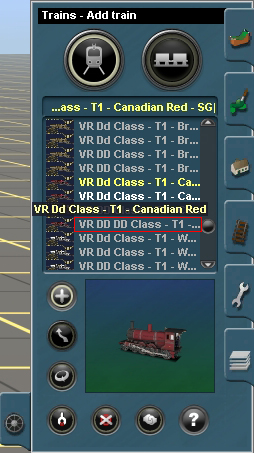 The yellow name (mouse hovering) is the BG example. Apparently I forgot to put 'BG' at the end, but it's still in order. The second one (selected/white) is the SG version. Simply clicking the name puts the
end
of the name in the top bar. But we already know that, thanks to alphabetical order, the SG one is second.
Now, I've also done a test of having the name with the gauge at the start (read the first 'DD' as 'BG' or 'SG'). So it's "VR BG DD class - T1...". This gives me absolutely no information on which livery/version from the pack is which. Queue the shitload of complaints through the helpdesk and emails and PM's about not being able to work out which one matches which colour scheme... Actually, it's got a 99% chance of not even passing the QA (testing) team at N3V as a payware pack...
The current system also allows me to type in 'VR DD' to get to the DD class, irrespective of gauge that I'm working on. Or, for a T class, 'VR T'. Easy for the general consumer to remember, everything just goes in alphabetical order under 'VR'.
If this were the I wagons, you'll be hovering over them to work out which one you want to use for your era (e.g. so you can avoid the buffer fitted versions for a post 1950s/60s route). And you'll keep doing it for
every
wagon you place in your train.
As a note, the NG groups do have a method that's already in use. They put, in inches, the track gauge at the start of the name ( e.g. 30 VR NA Class Green). This method has been used for about 3/4 of the NG content so works as an existing standard. This can work but will again fall down with longer naming where era/type variations come into play.
If you wish to play with your naming convention, you can do so without marking content as 'modified'. To do it, go into Content Manager and select an asset then open the 'asset details' panel on the left. Where the name is, simply enter the new name that you want. Then select the next item, and so on. Be warned, an extended database repair will reset this (a quick database repair shouldn't).
Regards